Be the best!
$350 American dollars per team.
Referee fees are included in registration fees.
Teams can secure a spot with a $150 deposit, but must be paid in full by the first deadline date – June 1st 2023.
June 30, 2023 – Teams that registered with a deposit must be paid in full by this date to secure the spot you were holding.
Registration for new teams will remain open until June 30th, 2023.

Age registration: 19 years old by the time of the tournament

Draft order will be determined by those on the top 4 earned from previous tournaments first.
Zoom Drafts will be held the week leading into the tournament.
Championship Rings, Team Trophy & MVP's.
5 on 5 IFAF Rules
40 min non-stop clock divided on 2 half of 20 and a halftime of 5 min only for regular season
Playoff and Championship time is regulatory.
Mercy rule is applicable during the entire tournament.
All styles will use Shruumz or Sonic Flag-A-Tag style belts and flags.
Important Facts
Minimum of 4 games
Paramedic services on site
Photography of every game
Individual stats
Sponsor prizes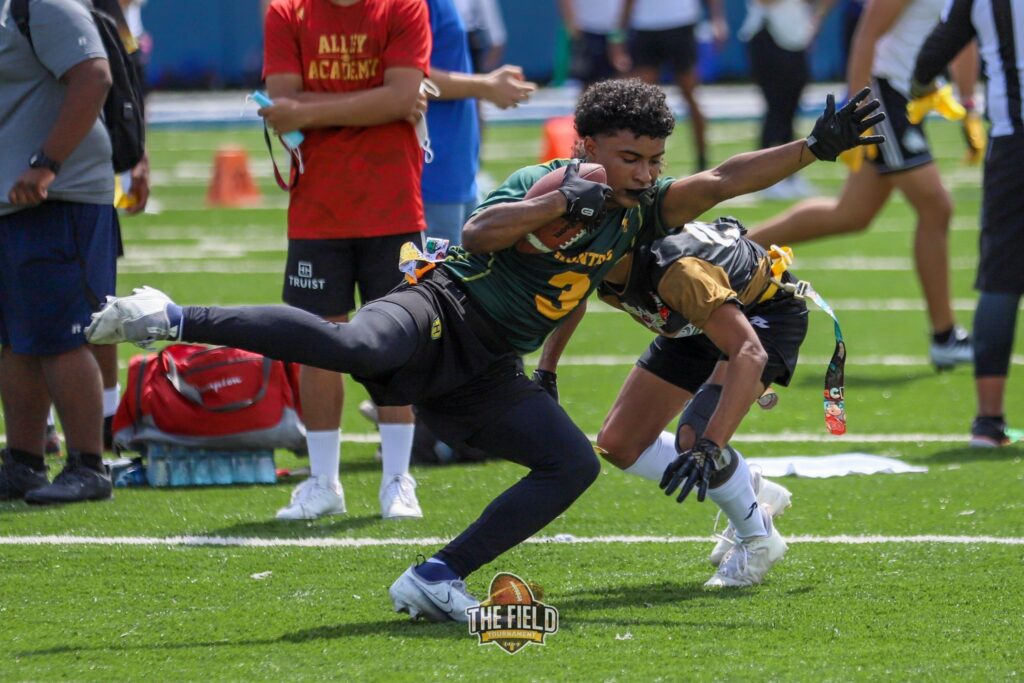 Basic Rules
Coin flip determines choice of possession or direction (winning team can elect to defer to the 2nd half)
2 half of 20 min, for regular round clock will be non-stop
The clock will only stop for injuries. Time-outs not allowed in the last 2 minutes of the first half.
LAST 2 MINUTE OF THE GAME (second half)
The clock will  stop in the final 2 minute of the game on these actions:

Incompletions
Out of Bounds
Change of Possession
Penalties. If it's an offensive penalty the clock will start on the official unless dead ball foul.

TWO 30-second timeouts per half
If a timeout is called after a touchdown, the clock will not start until the play after the conversion attempt
Teams switch sides at halftime.
Ball is placed where a flag pulled, not where the ball is when the flag is pulled.
A receiver must have one foot in bounds when making a reception.
Absolutely no tackling or blocking
Only one player can be in motion at the same time..
Games cannot end on a defensive penalty
MERCY RULE
If a team is up by 30 or more the clock will run non-stop.